Fraps 3.2.3
for Windows 2000, XP, 2003, Vista and Windows 7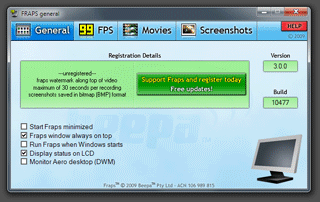 Requires DirectX 9.0c or DirectX 10
Requires Administrator rights
Supports all modern CPU's
(Pentium 3 and above)
Captures fastest with an NVIDIA GeForce or ATI Radeon graphics card
Download FRAPS 3.2.3 Setup (2.0 MB)
Registered users please visit the Members Area for the full version
Spoiler:

http://www.fraps.com/download.php

Zahira

Member





Messages

: 17


Glasses

: 21


Standing

: 1


Registered

: 2010-06-18



Fraps 3.4.6
for Windows 2000, XP, 2003, Vista and Windows 7

Requires DirectX 9.0c or DirectX 10
Requires Administrator rights
Supports all modern CPUs
(Pentium 3 and above)
Captures fastest with an NVIDIA GeForce or ATI Radeon graphics card :Ooo:

Download Fraps 3.4.6 Setup (2.2 MB) :PPP:
change
s
The latest version of Fraps includes an update to the loop recording mode, allowing you to specify a custom length for the buffer (rather than the default 30 seconds). To activate the recording loop simply press and hold your video capture hotkey until the Fraps counter turns pink, indicating that loop recording has begun.
We have also included new optimizations for recording at high resolutions such as 1920x1080 (1080P). Performance gains should be seen in most OpenGL and DirectX games with Fraps 3.4.
Code:

Changelog

Fraps 3.4.6 - 31st July 2011
- Fixed overlay color in Fear 3
- Fixed detection of IL2: Cliffs of Dover and Bloodline Champions
- Fixed counter appearing in Thunderbird and Pale Moon applications
- Other minor bug fixes

Fraps 3.4.5 - 28th May 2011
- Fixed some videos being recorded with scrambled colors

Fraps 3.4.4 - 26th May 2011
- Increased performance capturing Vista/Windows 7 aero desktop (DWM)
- Reduced memory footprint of Fraps process
- Fixed Fraps crash while idling on desktop
- Fixed gem glowing while recording The Dark Mod
- Fixed hotkeys not responding when simulated from autohotkey/macro apps
- Fixed graphic corruption in some OpenGL titles

Fraps 3.4.3 - 12th May 2011
- Improved DirectDraw capture speed
- Fixed recording crash on single CPU systems
- Fixed invalid colors/crashing recording from 16-bit color games
- Fixed corrupt/oversized AVIs being written at high resolutions
- Fixed Dirt not loading with Fraps running
- Other minor bug fixes and optimizations

Fraps 3.4.2 - 14th Apr 2011
- Improved OpenGL capture speed
- Fixed freeze when clicking on Minimize button
- Fixed GL state not being restored properly
- Fixed blank video showing in some AVIs

Fraps 3.4.1 - 2nd Apr 2011
- Fixed crash when starting Fraps for some users
- Fixed hotkeys not being detected when modifier keys held
- Fixed keys getting stuck when used by both the game and Fraps

Fraps 3.4.0 - 29th Mar 2011
- Added configurable buffer size for loop recording mode
- Increased video capture performance at high resolutions
- Fixed slow recording of Minecraft at default window size
- Fixed benchmark crashing when configured to stop automatically after 1 second
Hi guys There were some problems on the forum that some Fraps does not remove more than 30 seconds?
Now you will not have problems with this lunacy
Download a copy of my registered fraps

Download - MEGAUPLOAD (6.4 MB)
Download - FileShareSite.com (6.4 MB)

Similar topics
---
Permissions in this forum:
You
cannot
reply to topics in this forum