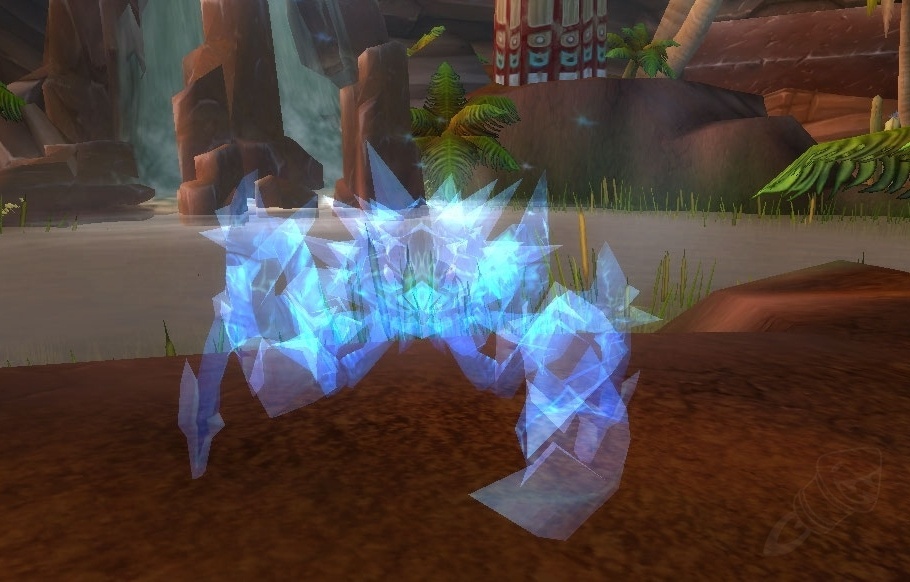 Last year, we made a popular guide to in-game tributes to community members and Blizzard staff. With the launch of the new expansion Warlords of Draenor, Blizzard added many new references so we've updated our list for 2014!
This guide looks at Blizzard staff and WoW players who have their names referenced in WoW in some form--items, NPCs, quests, locations. 
Did you know the NPCs placating the angry townsfolk in
Очищение Стратхольма
 are named after the Customer Service team? Perhaps you've tamed 
Призрачный Краб
 in Vash'jir, answered Blizzard Historian 
Старший историк Эвелина
's questions on the Timeless Isle, bought battle pets from 
Бреанни
, or found 

 Необычный перстень-печатки Перкулии
 in Pandaria :)
We're happy to include additional references, but we've deliberately left out some items and details based on privacy concerns and requests.
Содержание
Wowhead Staff
Many Wowhead staff members received items in Warlords of Draenor:
Previously, several staff members received tributes:
Blizzard Employees
When reading this section, it's good to note that designers name items after each other for fun--they don't usually name items after themselves.
Alex Ackerman
Alex Ackerman
 is a PR writer for Blizzard. Her NPC, 
Алекси Хакеркам
, shows up in the Alliance Garrison and sells useful crafting recipes.
Alex "Furor" Afrasiabi
Alex "Furor" Afrasiabi, now the Creative Designer for WoW, has a number of items stretching back to vanilla WoW:
Alexander "Xelnath" Brazie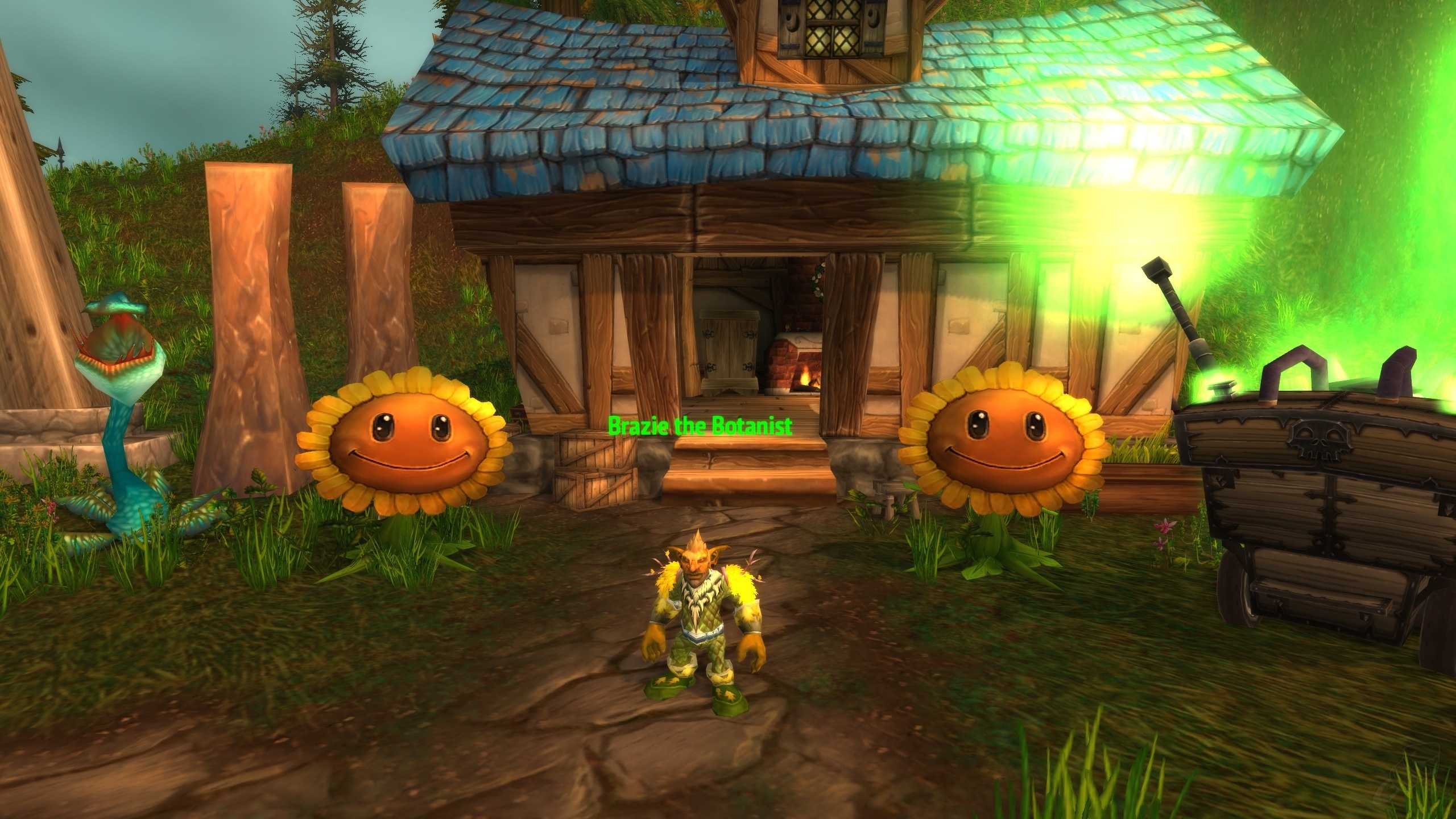 Former Encounter Designer Alexander Brazie had an eclectic series of items named after him:
Ben Brode
To learn more about the life of a Blizzard Historian, check out 
WoW Insider's interview with Sean Copeland
.
Brian "Desvin" Holinka
PvP Designer 
Brian Holinka
 is an Alliance Pandaria PvP vendor (
Воитель Голин
) and the Horde Pandaria PvP vendor, 
Ру Десвин
, is named after his 
forum nickname
. 
On the eastern beach in Ashran, 
Брайан Холинка
 can be found with 
Крис Калейки
. Both wearing Season 16 Elite gear—the warrior and monk sets.
Chris Kaleiki
Game designer Chris Kaleiki has an awesome twink weapon, 
 Потерянный тренировочный посох Калейки
, and Wrath NPC (
Штейгер Калейки
) named after him. Check out more of his thoughts on game design on his 
MMO game design blog
.
On the eastern beach in Ashran, 
Крис Калейки
 can be found with 
Брайан Холинка
. Both wearing Season 16 Elite gear—the warrior and monk sets.
Chris Kowalski
Chris Kowalski is a senior sound designer.
Chris Metzen
Community Management
Cory Stockton
Customer Service in Culling of Stratholme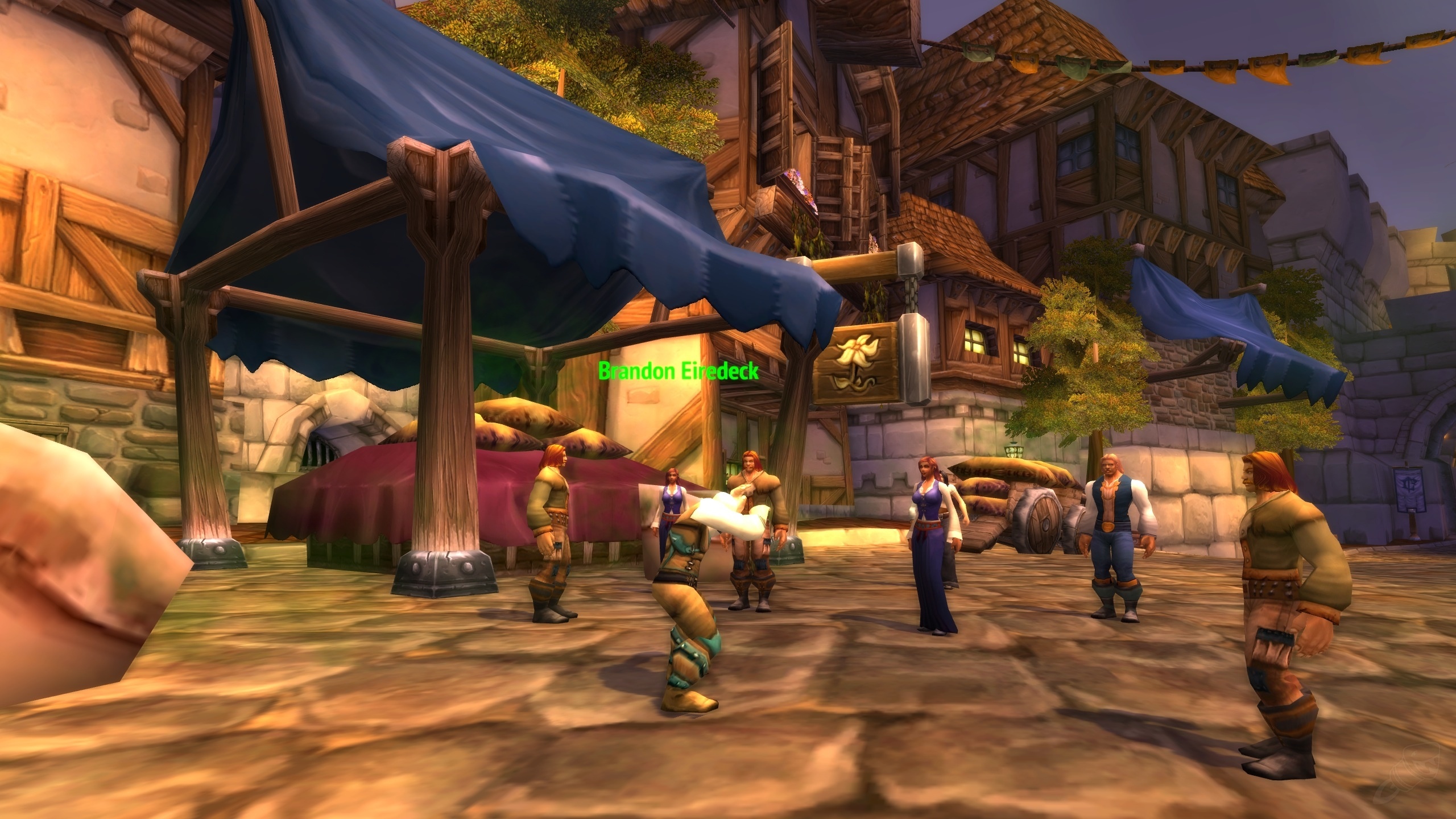 In 
Очищение Стратхольма
, several townsfolk are named after Blizzard Customer Service. Ironically, much of their dialogue is tied to placating angry citizens about the grain shipment.
Dave "Fargo" Kosak
Before working at Blizzard, Lead Narrative Designer Dave Kosak worked at Gamesply and wrote the Flintlocke comic series, featuring Fargo and Flintlocke, a confused Warrior who wants to be a Hunter and rides a dead ram mount and has annoyed Ironforge in spite of being a dwarf.
Many followers that can be recruited from the Inn are references to Flintlocke:
Dorothy Tu
Dorothy
 is an internal communications coordinator at Blizzard. Her NPC, 
Дороти "Двойка"
, is the Alliance Garrison Fur Trader.
Eric Dodds
The mystery of Edward the Odd's identity was solved on Twitter—it was revealed that Lead Designer for Hearthstone Eric Dodds was the reference for all the purposely mismatching Edward the Odd items: 

 Рука Эдварда Странного
, 

 Воля Эдварда Странного
, 

 Перстень Эдварда Странного
, 

 Наплечье Эдварда Странного
, 

 Ботфорты Эдварда Странного
.
Greg "Ghostcrawler" Street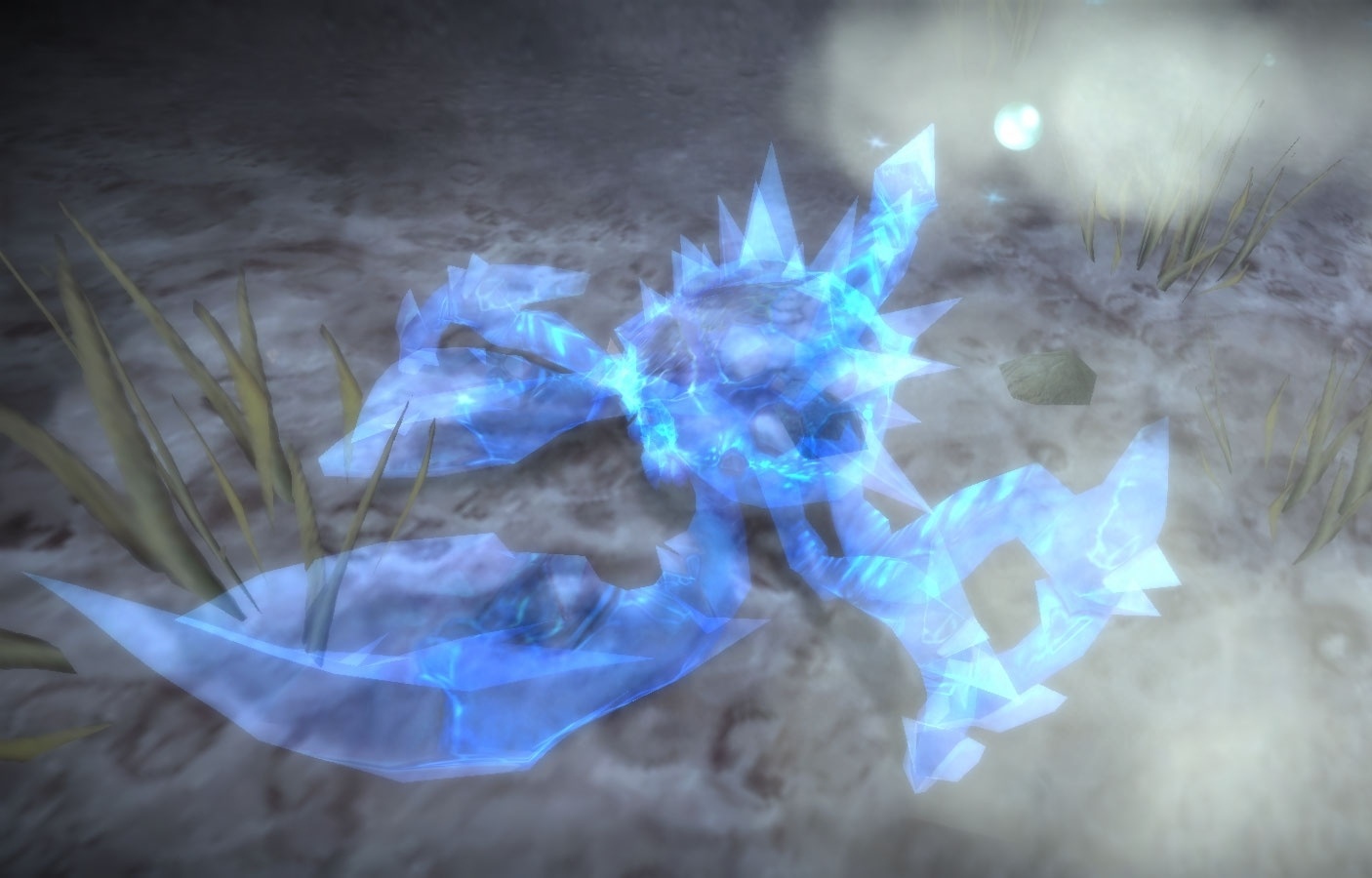 Interns
According to a comment on 
Аргонис Солнечное Сердце
's page, several Garrison followers are named after Blizzard interns. We'd love to know more information, if you can direct us to other interns with followers, leave a comment!
Jeffrey "Tigole" Kaplan
Former Game Director Jeffrey Kaplan (moved to Titan, now Overwatch) has some humorous test items: 

 Всезахламитель Тиголя
 and 

 [Tigole's Boomstick (TEST)]
. He also has the 

 Гарпун Тигуля
 from old Zul'Gurub. He's paired up with Foror in the Children's Week delicacy 

 Клубничное мороженое Тигуля и Форора
 and the AV item 

 Картина Форора и Тигуля с подписями мастеров
.

Prefoxfoxfox

Member





Messages

: 7


Glasses

: 14


Standing

: 1


Registered

: 2014-10-01



Jeremy Feasel
Джереми Фитиль
 is the Master Pet Trainer at the Darkmoon Faire. Defeating his team, which is no small feat, has a small chance to reward you with 

 Око Новолуния
. In real life, 
Jeremy Feasel
 is a Senior Game Designer who recently worked on Garrisons and the Timeless Isle. 
Кристоф фон Физель
 is named after his brother, who is engaged in eternal sibling rivalry between his fireworks hat and boastful dialogue.
Joe Rumsey
Lead Software Engineer 
Joe Rumsey
 has a series of strong beverages named after him: 

 Ром Ромси
, 

 Ром Ромси "Черный ярлык"
, 

 Светлое пиво капитана Ромси
, 

 Черный ром Ромси
, 

 Белый ром Ромси
, and 

 Рецепт: светлое пиво капитана Ромси
.
Jonathan LeCraft

 Удочка Умейки
: Sr. Game Designer 
Jonathan LeCraft
 is referenced in this unused legendary fishing pole which matches 

 Старый Хитрюга
. 
He also shows up in Shrine of Seven Stars: 
Джонатан Ле Карф
 (a tribute to his original hardcore Diablo III character, whose dialogue is the death message) and as 
Ремеслий Мозголом
 before he racial changed to gnome.
His latest appearance is as 
Ремеслий Мозголом
, the Ashran quartermaster who can drop every romance novel, including 

 Скабрезный любовный роман: "Необузданные страсти"
.
Kevin Jordan
Former Game Designer Kevin Jordan, now at Cryptozoic, worked on Diablo and WoW. There's a series of items named after him like 

 Кушак Джордана
 and the popular 

 Старинный посох Джордана
.
Kieu Le
Киу
 is named after Licensing Coordinator 
Kieutipie
 and the follower has her signature pink hair!
Lake Dumont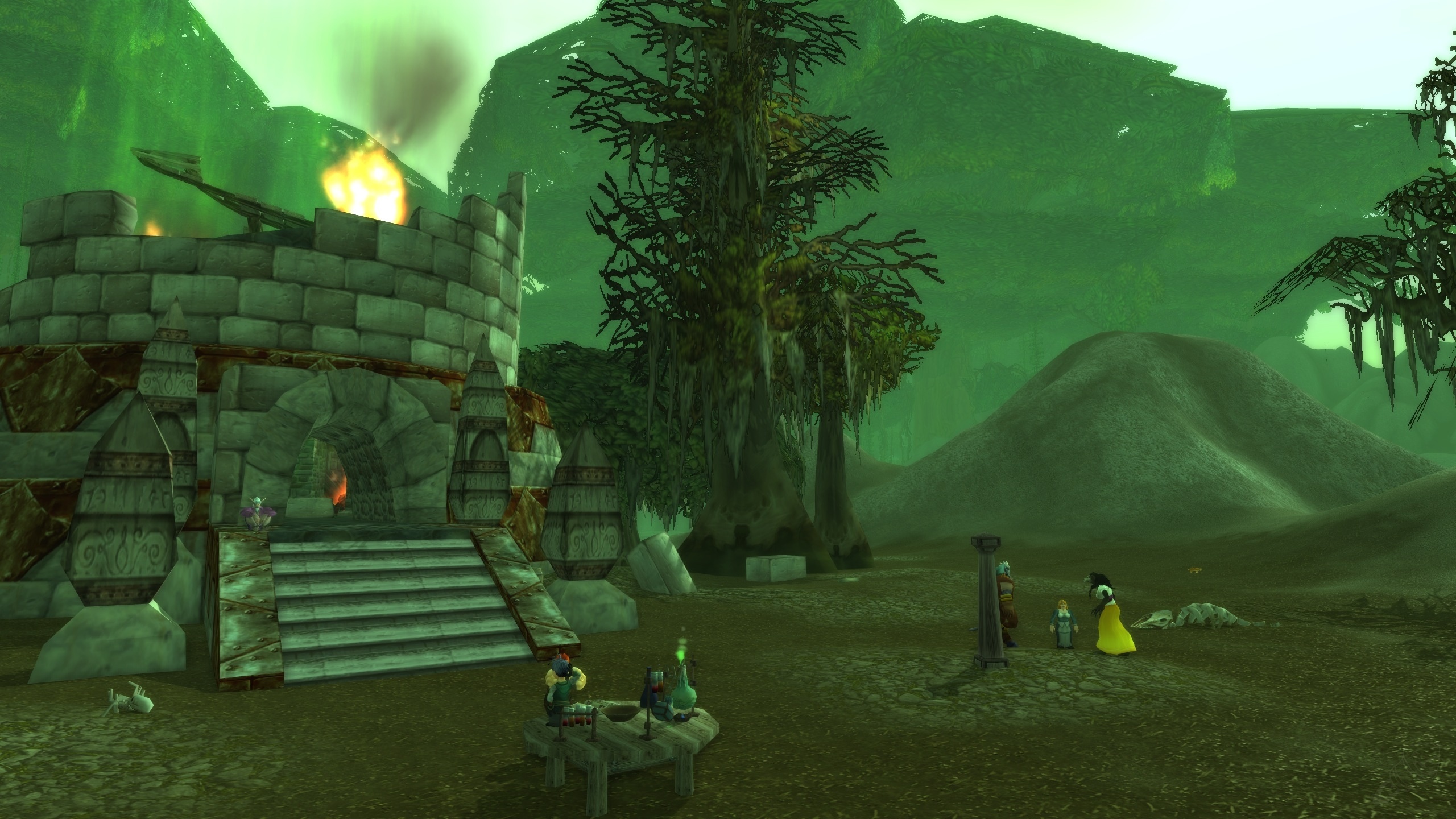 Lake Dumont is home to a group of NPCs from the same Blizzard team, according to BlizzCon 2010. They are stranded on an island with a crumbling tower--some NPCs are dancing, while others are on the lookout or asleep.
The NPCs include the following: 
Брандан Вандерпул
, 
Брайан Хорн
, 
Кейси Фултон
, 
Джейк Петтон
, 
Джуда Мелер
, 
Джонни Сурп
, 
Ларисса Буссел
, 
Лукас Мерино
, 
Мэри Энн Скуерес
, 
Матиас Волькерт
, 
Райан Слай
, 
Сом Вандерпул
.
Monte Krol
The BoE 

 Клинок Крола
 has grown up each expansion: 

 Колун Крола
, 

 Лабрисса Крола
, 

 Ятаган Крола
, and finally an elite 
Крол Клинок
. Possible reference to Lead Tools Engineer 
Monte Krol
.
New Hearthglen
The Horde questline in Dragonblight taking players to New Hearthglen references many Blizzard employees.
The Night Watch
This series of guards in Duskwood is named after Blizzard employees, such as 
Дозорный Додс
 for Lead Hearthstone Designer Eric Dodds, 
Дозорный Келлер
 for Lead Level Designer Aaron Keller, and 
Дозорный Петрас
 for Art Director Bill Petras.
Olivia Grace
Olivia currently works on Warcraft and eSports for Blizzard, but you may know her from her time at Wowhead assisting with news and co-hosting Wowhead Weekly. Previously she was WoW Insider's PvP and add-on columnist, as well as host Legendary at Gamebreaker TV.


 Глубокий взгляд Оливии: Her Ordos item has a PvP model instead of an expected PvE one, due to her time as WoW Insider's PvP columnist.


She also has the amusing object Долговая расписка, which references a running joke on twitter that Olivia would bake the devs one million cookies each if they implemented cross-realm arenas.


Pat Nagle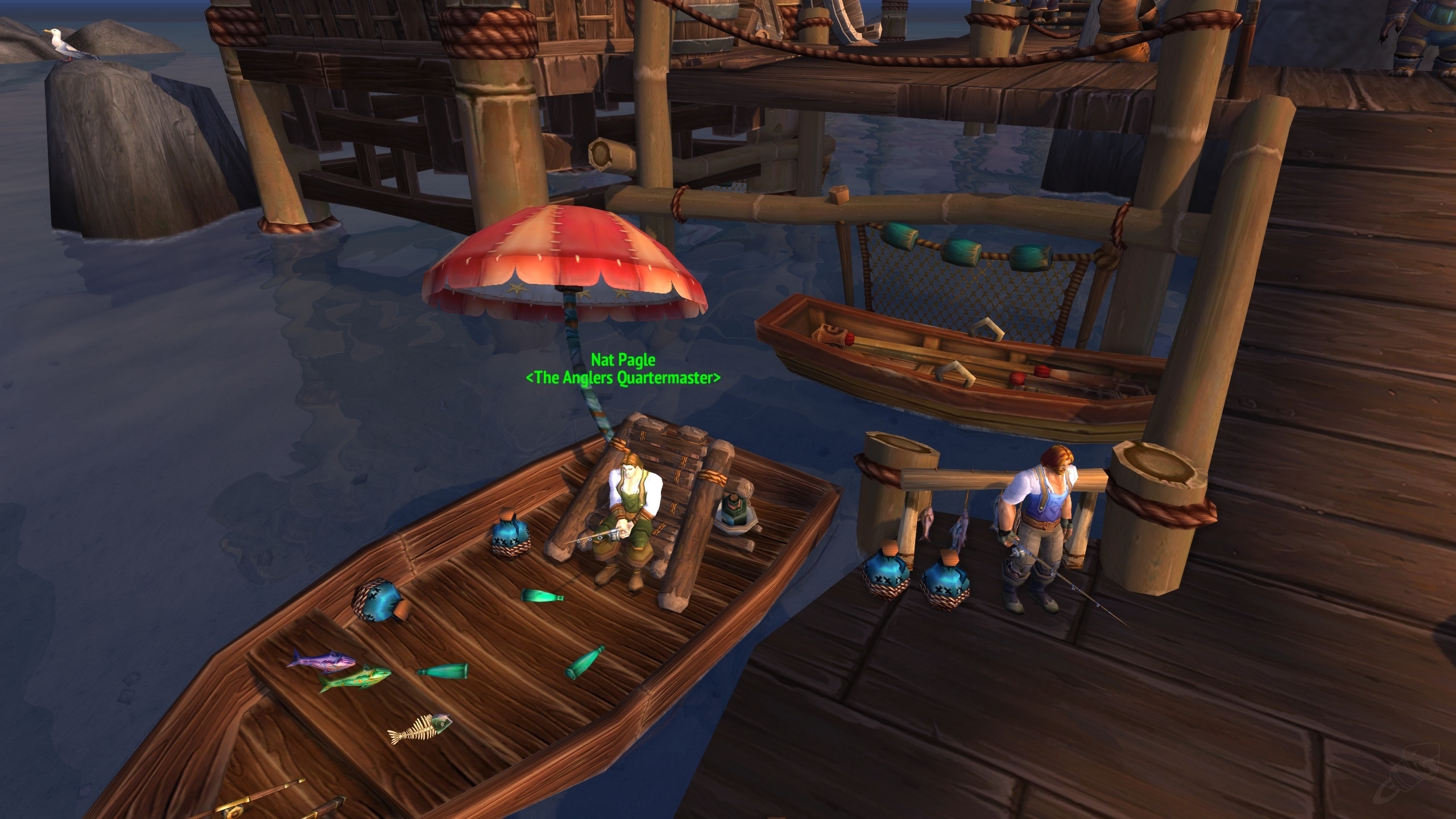 Pat Nagle is a Senior Game Designer who is the namesake of everyone's favorite fisherman:
Quality Assurance Ship
The NPCs on 
The Assurance
, a ship docked in Stormwind Harbor due to bugs, are tributes to the Wrath of the Lich King QA team.
Капитан Пол Резчик
 was the lead QA Analyst and has funny observations on the ship related to QA:


"We were all set to sail into Northrend, but we've noticed a severe number of pests aboard our ship."


"Before we can set sail to Northrend, we've got to eliminate our pest problem aboard the Assurance."


"The Assurance has somehow become inundated with bugs and we are unable to set sail to Northrend."


Other members of the team are present:


Assistant Lead QA Analysts: Edgar Flores, Kurtis Paddock, Rian Trost


QA Content Specialists: Justin Boehm, Michael Corpora, Meghan Dawson, Benjamin Elgueta, Dan Kramer, Paul Kubit, Serban Oprescu, Art Peshkov, Bob Richardson, Candace Thomas


Russel Brower
Рассел Брауер
: In the creative quest 

 Автор слов и музыки...
, players help 
Рассел Брауер
 write a song and pick the lyrics. Russel Brower is the Director of Audio/Video and his music can be heard in WoW, Diablo, and StarCraft.
Samwise Didler
Сэм Вайз
: 
Samwise Didler
 is the Art Director at Blizzard and was responsible for the Pandaren concept art.
Scott "Daelo" Mercer
Scott "Daelo" Mercer was the former Lead Encounter Designer for WoW. Around the time he switched departments, 

 Последние слова Даэло
 was added. Several NPCs also are named after him, such as 
Старейшина Даэло
 in Jade Forest.
Terran Gregory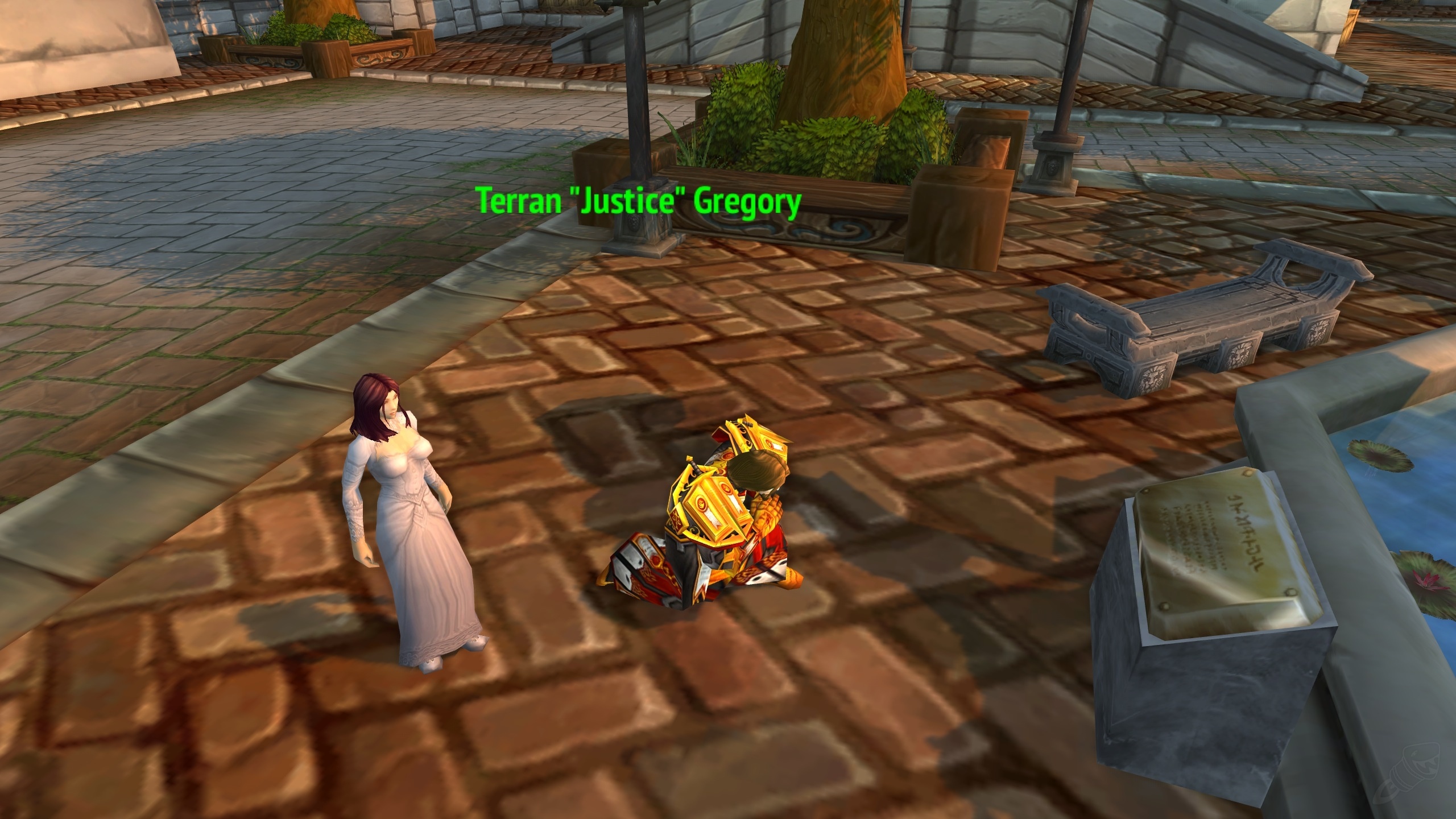 Терран "Судья" Грегори
: Terran Justice Gregory works on the cinematic team, and notable projects include the South Park episode "Make Love Not Warcraft" and the Demon Hunter cinematic. Relatives include 
Джуди Грегори
, 
Девид Грегори
, and 
Божественная Мария
.
Tom "Kalgan" Chilton
William Warnecke
WoW Community
Death Knight


 Вечно холодное кольцо Девия is named after Devium, a tank in which achieved many World/US firsts in Wrath. From Валитрия Сноходица in Цитадель Ледяной Короны.


 Чистое небо has quest rewards named after Wrath beta testers:  Сапоги Лейи,  Наплечные щитки кобальта,  Усиленные боевые рукавицы Джейд,  Большой шлем Сикстена.


The Death Knights of Acherus: This series of books the Death Knight starting area humorously references many Wrath testers and their gruesome fates. Depending on your phased state you will see one of four different books at different points in their lives. The books cover Jayde, Sixen, Munch, Cobalt, Harmony, Melt, Milton, and Minitalis.


 Всевидящие очи Давидиана: Tribute to the remarkable story of a blind player, Hexu, who raids with the help of a guildmate, Davidian, which is honored in the flavor text "Sharp enough to see for two men." Read more about this touching story on WoW Insider.


Катерина Джоплин, the Alchemy Vendor in Stormshield, is one of the founding members of the #Acherus IRC channel for Death Knights.


Ordos Loot

Prefoxfoxfox

Member





Messages

: 7


Glasses

: 14


Standing

: 1


Registered

: 2014-10-01



Druid
Ordos Loot
Hunter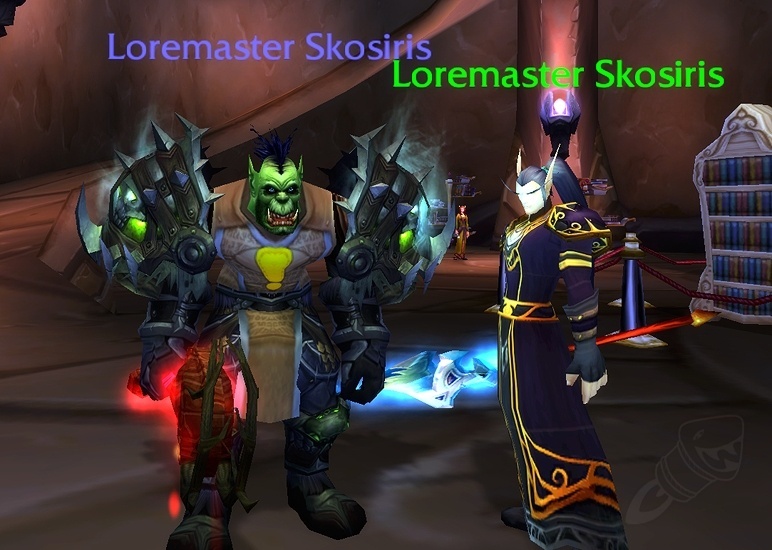 Mage
Ordos Loot
Monk
Paladin
Ordos Loot
Priest
Ordos Loot
Rogue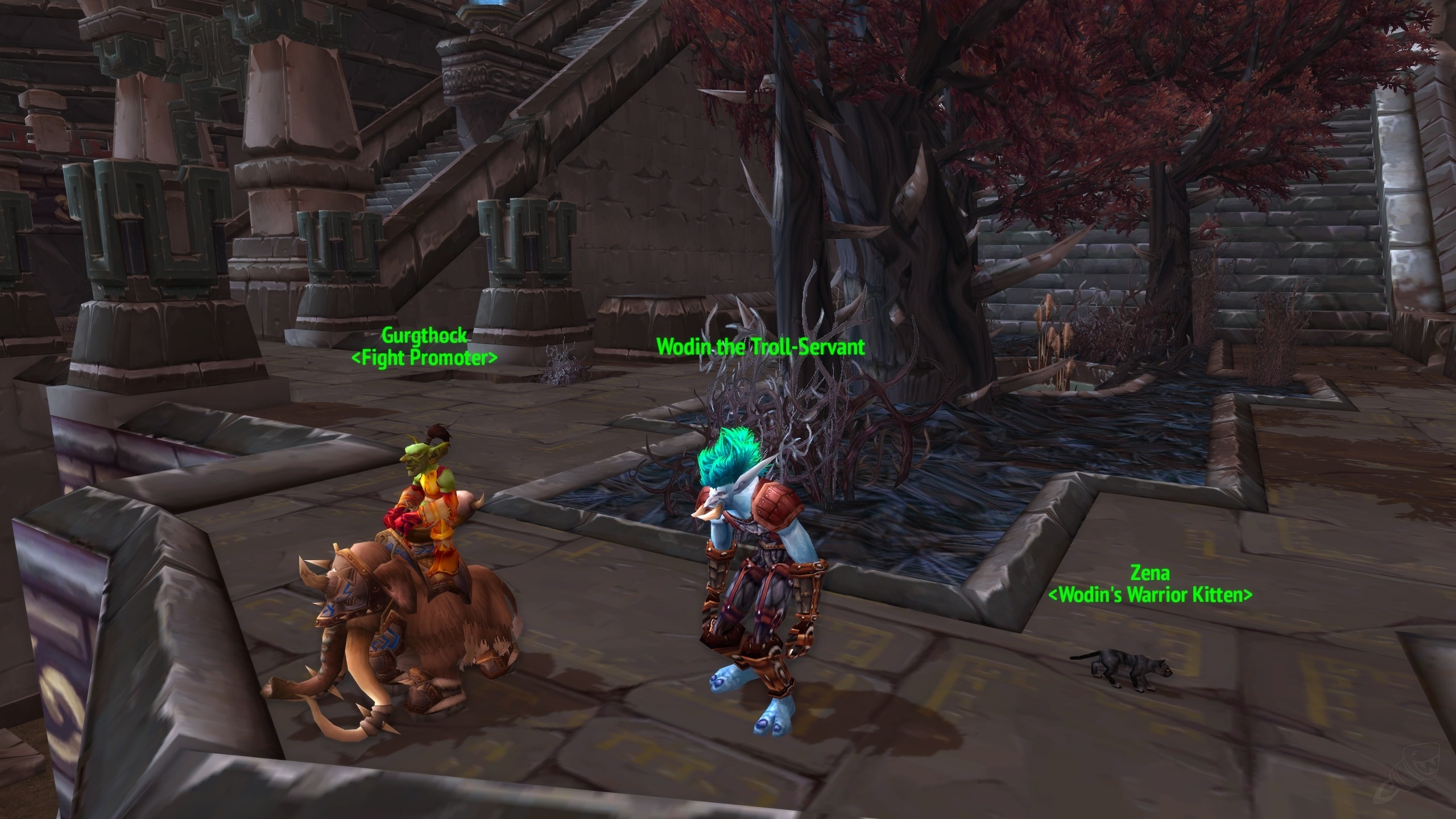 Ordos Loot
Shaman
Ordos Loot
Warlock

Prefoxfoxfox

Member





Messages

: 7


Glasses

: 14


Standing

: 1


Registered

: 2014-10-01



Warrior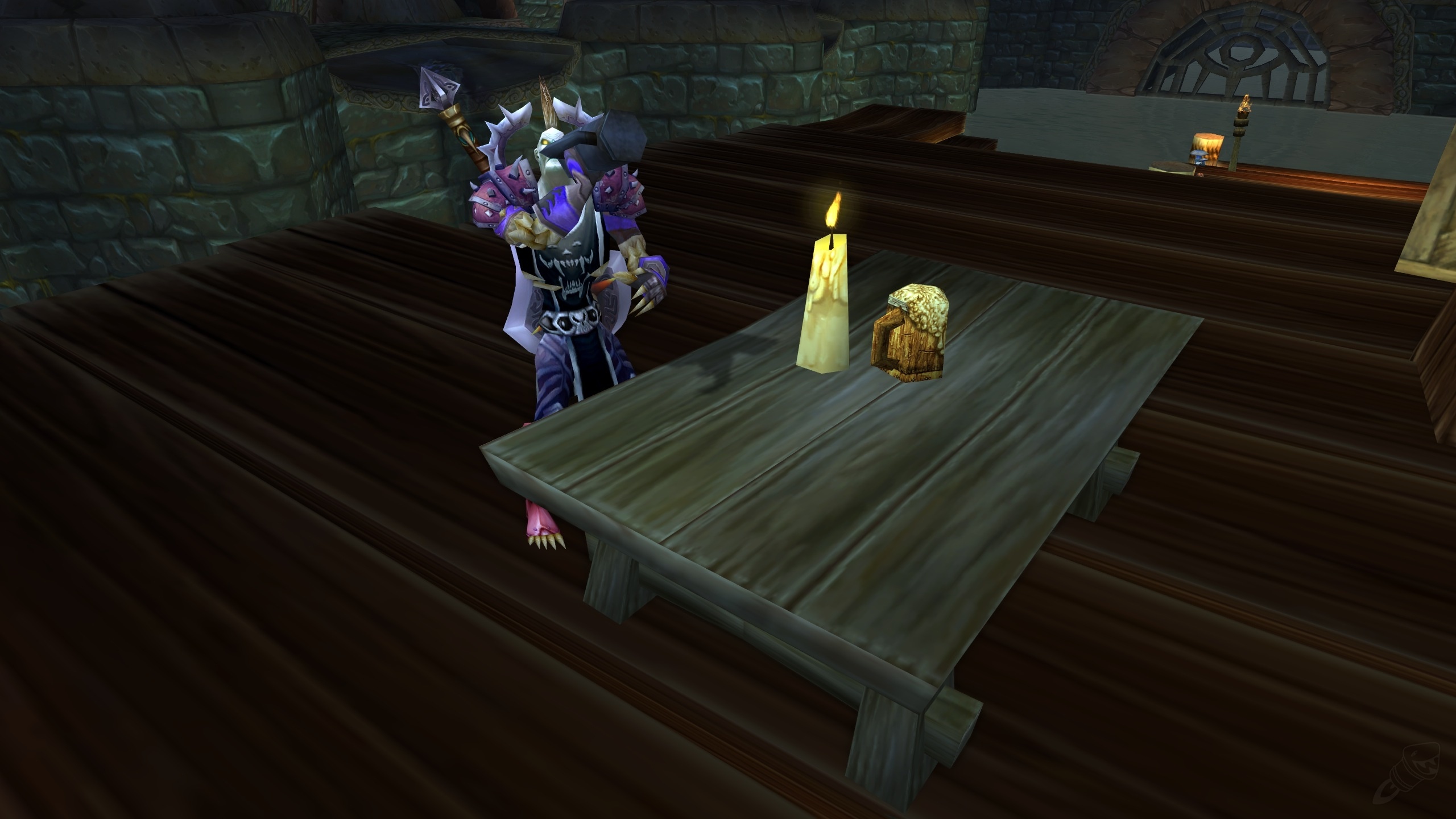 Ordos Loot
Ashran
Many high-level PvPers received tribute NPCs in Ashran—they are captains who aid you when your team is behind, or can be summoned with 

 Свисток капитана
. 
Their models include neat tributes to their favored classes--for example, 
Алана Ветряная Шкура
 is an armored moonkin, and
Элиотт ван Рук
 is wearing PvP mage gear.
Alliance:
Horde:
Кимилин
: Named after a dedicated PvPer who passed away from cancer earlier this year. Learn more about her 
involvement in PvP here
. Her dialogue has the touching tribute "My body has fallen, but my spirit rises. I will always be with you."

Prefoxfoxfox

Member





Messages

: 7


Glasses

: 14


Standing

: 1


Registered

: 2014-10-01



Pets and Collectors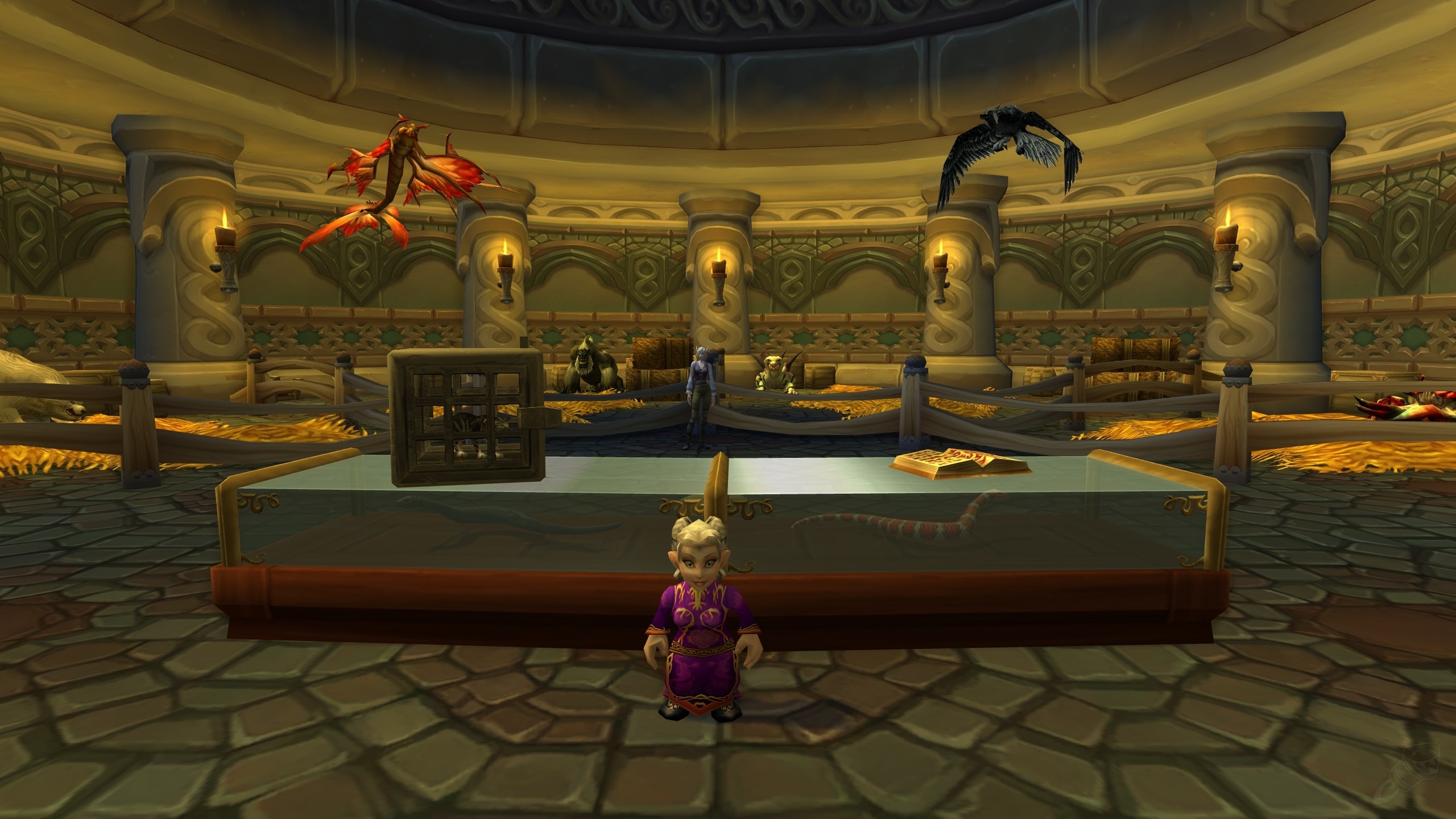 [size]
Artists, Crafts, Cosplay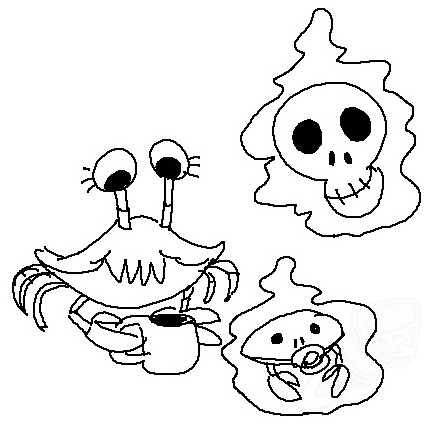 [/size]
[size]
General
[/size]
[size]
Film and YouTube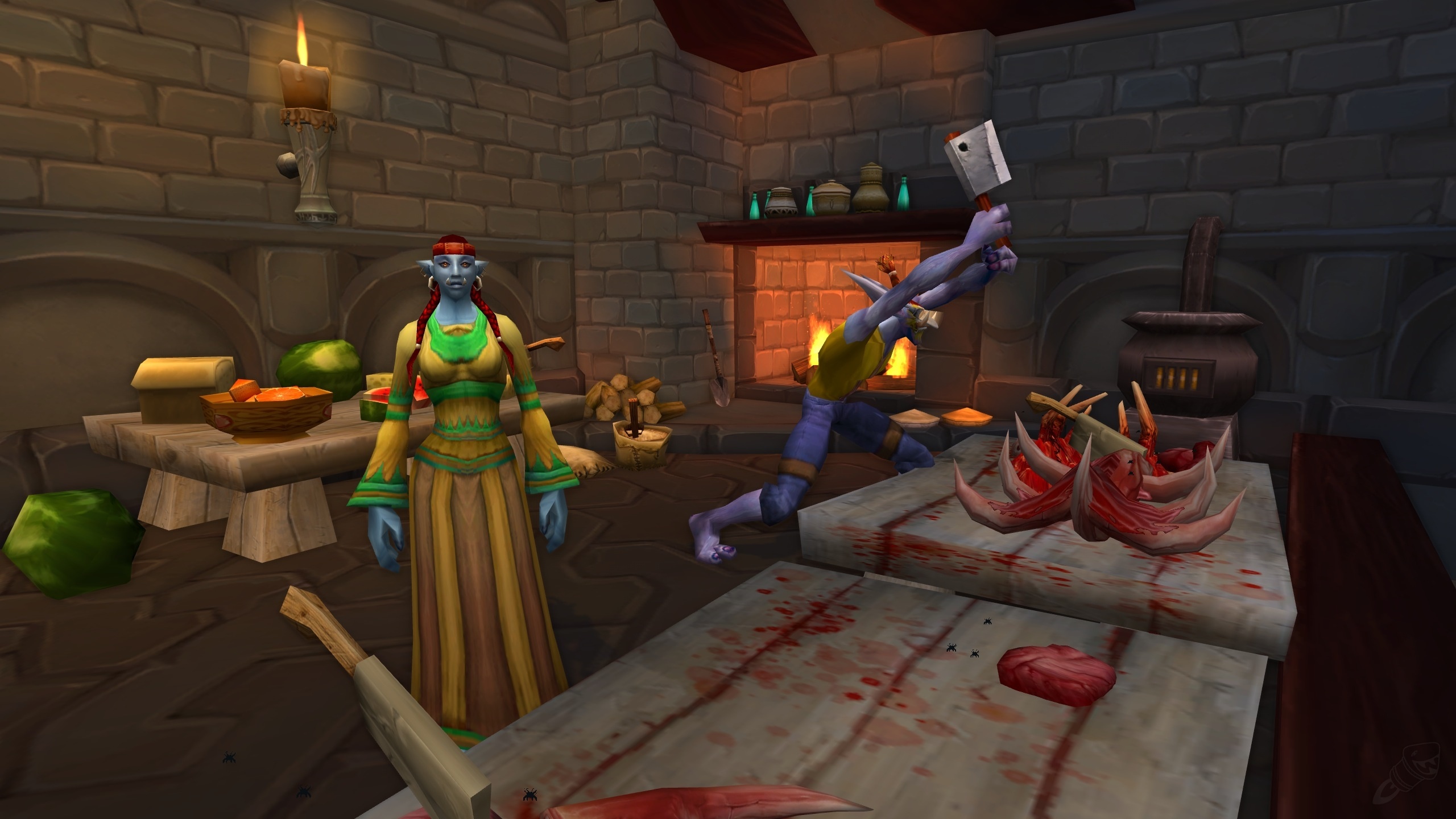 [/size]
Мэй Челе: Represents Michele Morrow from BiteSizeTV, HelloGiggles & Nerdist, along with her boyfriend Зажигатель ламп Му and cats Самус and Азраэль in a cozy house on the Wandering Isle. 
Мишель Завтрашняя Песнь is now a follower you can recruit to the Horde Garrison as well. Check out WoW Insider's two interviews with Michelle here and here


 Амулет Кель'рика: Qelric is a streamer who makes videos about various Blizzard games.


 Испачканные чернилами писчие перчатки Ники: NikaHarper was Riot's Community Coordinator and host of Summoner Showcase for League of Legends. The ink stains refer to her current career as an indie writer and you can support her Patreon here.

[size]
Elitist Jerks
The Elitist Jerks forum community, based on Horde Mal'Ganis, is very close-knit. Many long-time forum posters received items named after them in Warlords of Draenor:
[/size]
[size]
Several notable items are 

 Передвижной отряд громил
, named after the infamous guild Goon Squad, and 

 Настойчивость Тории
 and 

 Незрячий глаз Тории
, which were named after Toria, the GM of Goon Squad, who overcame a tumor in his eye.
[/size]

Prefoxfoxfox

Member





Messages

: 7


Glasses

: 14


Standing

: 1


Registered

: 2014-10-01




Similar topics
---
Permissions in this forum:
You
cannot
reply to topics in this forum