Site Updates: New Profiler Features, Custom Stat Weights and Reforging!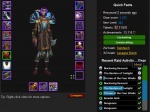 The Wowhead team is always working behind the scenes on ways to make our site an even better resource for our users. This week has been a particularly productive one. We've made several big changes here--all thanks to our community's constant feedback! We get a lot of requests from you guys and we're always happy to listen. Over these past few months, 
Profiler
 has been brought up a lot. In particular, you've brought up adding a way to track raid progression.
Well, now you can. We're happy to announce that we recently added a raid progression tracker to Profiler. In addition to all the other awesome things it can already do, it can now tell you what dungeons are optimal for your level and gear. In just one glance, Profiler can tell you what ones you have completed and your current raid progression as well.
Of course, Profiler's raid utilities aren't the only thing we've enhanced. We also improved on Wowhead's ability to help you choose gear and see how your stats change with every choice you make. We've done this primarily through two other recent updates: the ability to reforge items and the ability to create custom stat weights. Reforging is as easy as right clicking on an item in question--like how you apply gems or enchants now--and selecting that. You can also reforge items while comparing them to others, so you can get the definitive answer on which upgrade is the best for your class and role.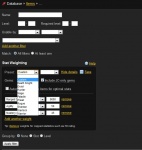 In addition to being able to reforge now, you can also define custom weight scales for Wowhead to remember for your future visits. Stat weighting has always helped you sift through items you can equip to find the select few ones that benefit you the most; now it's even easier. If you've been using our stat weight scales, you'll welcome this change and save a lot of time--and if you haven't tried it out yet, now is the perfect time! 
To start using this new feature, simply go to the 'Stat Weighting' section of 
the item database
 and select the blank tab from the drop down menu. From there, click 'Show Details' to show fields where you can input your preferred stat selection to the scale. After specified the fields you want, click 'Save' to give your new weight scale its own name which will allow you to select it again in future visits. To select them in future visits, just select 'Custom' from the drop down menu. It's as quick and easy as that, so get searching! (Also, if you're confused about what stat weights are, be sure to check out 
our super useful FAQ entry on stat weighting
.)
http://wowhead.com/items
Check out the full list of features we've added recently after the break--and remember to leave your feedback!
 We always want to know how our recent changes are affecting your Wowhead experience, for the better or for the worse, as well as any suggestions for more awesome features we can add!
Features


Raid Progression Tracker

The Profiler's right sidebar now shows your character's recent dungeon and raid activity

The first column ('Recent Raid Activity') shows how far you've gotten in either heroic or normal encounters; mouseover to see the breakdown of your recent activity

From grey to red, the second column of the sidebar ('Gear') shows the difficulty level of encounters in relation to your gear

It also uses an icon to show whether or not the player has finished, is working on, or not yet started the content

Reforge Function
You can now reforge gear! To reforge, simply 'right click' on the item as you would with enchants and/or socketing gear

Custom Weight Scales
You can save custom weight scales anywhere you can select one

Simply create your scale, label it with a name, and then save it

The class drop down will now have a "Custom" section where you can select from your max of 5 weight scales

Achievement hunters, take note: you can even get an achievement for saving your first preset


Tweets

Member





Messages

: 3


Glasses

: 8


Standing

: 1


Registered

: 2014-06-18




Similar topics
---
Permissions in this forum:
You
cannot
reply to topics in this forum