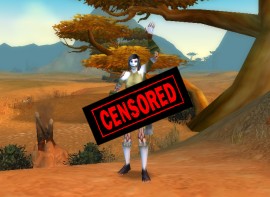 After a down time of nearly 2 months in China, World of Warcraft may well be online "soon" again, once the server and censorship problems are fixed that is.
The9 had passed off the rights to operate World of Warcraft to NetEase, in China. The9 had originally failed to launch the game due to financial problems related to the game being delayed due to censorship. Those problems now sorted, NetEase are having a little problem of their own, but this time server related.
They had originally planned some server down time due to transferring everything from The9 to NetEase, however the down time has been going on "a little longer than expected". According to gameindustry.biz however, the downtime may soon be over and the Chinese population will be able to finally enjoy WoW and its second expansion. A "lighter" version of it at least (no DK's, fully skinned Undeads, no crusade against the Scourge and generally "less violence").
The servers had been offline since June the 7th and NetEase failed to relaunch them due to problems which they believe to be out of their control as they had stated on their website:
"We have met with some factors which are out of our control, the servers reopening will be delayed," followed by "As of now, we don't have a specific reopening time frame."
However, the servers re-opening "soon" is a vague timeframe and could include anything from as tomorrow until the end of the summer. The Chinese government will also be looking a little more into censorship, but tiny scaled-ones which will, or should, require barely any more downtime.

Mike

Member





Messages

: 2


Glasses

: 2


Standing

: 0


Registered

: 2010-03-17



NO DKS YAY! i think we should all go play on chinese servers :)

Tomboi

Member





Messages

: 5


Glasses

: 5


Standing

: 0


Registered

: 2010-03-15



Well thats what a call heaven, no dks

Billytalent

Member





Messages

: 9


Glasses

: 11


Standing

: 0


Registered

: 2010-03-16



NO DKS and we can not reach 80 level .can not go to northrend.We call it TBC's 3.1.3

Felix

Member





Messages

: 24


Glasses

: 34


Standing

: 0


Registered

: 2010-03-16



that's not the heaven, that's the fucking orgasm

Terethall

Member





Messages

: 9


Glasses

: 9


Standing

: 0


Registered

: 2010-03-16



---
Permissions in this forum:
You
cannot
reply to topics in this forum