New TCG Expansion: Comment to Win Loot From the Tomb of the Forgotten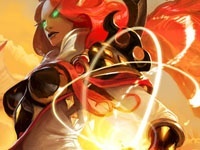 On June 12th,
Cryptozoic
is launching their latest WoW TCG expansion:
Tomb of the Forgotten
. Like the name implies, it's based off the sandy deserts of Uldum and is teeming with new dangerous foes and powerful allies. Most notably for those of us really into vanity items, it has three new in-game rewards:
Spurious Sarcophagus
,
White Riding Camel
, and
Sand Scarab loot codes and one
White Riding Camel
loot code to give out to our community!
To be entered to win one of these six loot codes, just leave a comment on this post. We'll close this giveaway Tuesday at 12:01PM PDT, so be quick or else you'll miss out!
Originally posted by Blizzard (
View Original
)
Discover the secrets of Uldum, unlock the power of the mysterious Tol'vir, and conquer your enemies in the Tomb of the Forgotten!
The third and final set in the Aftermath block gives Monster fans more tools than ever. Unleash the power of the Tol'vir Monsters, and utterly destroy your foes with the new Sentinel mechanic, which lets you double up on attack or defense. The Monster hero line-up is completed in this set, as players gain access to monstrous new Priest, Rogue, and Paladin heroes. But if you want to get creative, explore the endless possibilities with new dual-class Monster heroes! Murloc, Ogre, and Demon fans will also have plenty to get excited about.
Three new World of Warcraft® Trading Card Game Loot cards will also make their debut in Tomb of the Forgotten. Uncover Sand Scarab pets, or unlock the Spurious Sarcophagus trinket. And finally, lucky fans who open up a rare White Camel mount will be traveling the deserts of Uldum in style!
The treasures of Uldum will be uncovered this June!

Similar topics
---
Permissions in this forum:
You
cannot
reply to topics in this forum