Font Replacer is a simple Windows application to change the default World of Warcraft fonts.
What does it do?
It provides a simple drag-and-drop interface for replacing World of Warcraft's default fonts:
Main UI Font (like NPC/Characters names, buffs, etc.);
Normal numbers font (font for combat text);
Huge numbers font (for crit numbers text);
and font for mail, quest log, etc.
Version: 1.0.1
Download
(68 Kb)
File tested: Safe
Code:

How to use it?
1. Drag and drop your font into the application's window;
2. Check the fonts you want to replace (By default all fonts are checked);
3. Click "Replace Fonts" button.
If you want to return your previous font, check your WoW installation's "Fonts/backup" folder for backups. To set Blizzard's default
fonts
just delete "Fonts" folder.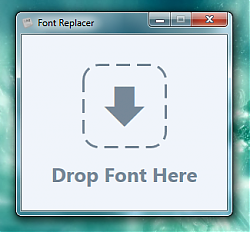 Afterword
I will be happy to hear your feedbacks. And bugreports, if you find any bugs.
Version History
1.0.1: A small bugfix, Main UI font will be changed as required
 :)  8)
Last edited by Heyro on Fri 29 Jul 2016, 1:07 am; edited 1 time in total

Tengaar

Member





Messages

: 11


Glasses

: 15


Standing

: 0


Registered

: 2010-03-15



in this addons can be any font?

Avan

Member





Messages

: 10


Glasses

: 12


Standing

: 0


Registered

: 2010-03-16



_____________________________________________________________________________________________________________
:=///: :=///: : :mrgreen:

Bobhaos

Member





Messages

: 14


Glasses

: 15


Standing

: 1


Registered

: 2010-03-16




Nightmare

responsible for the "add-ons" section





Messages

: 26


Glasses

: 5075


Standing

: 33


Registered

: 2013-09-18




Similar topics
---
Permissions in this forum:
You
cannot
reply to topics in this forum