Entry
After reading the name of the device, the first thing that comes to mind - memories of childhood, or rather, advertising "Nick loves mambo, Vasya loves mambo. Everybody Loves Mambo! And Sergei, too! ".
Today on my desk novelty from the infamous company Razer, her name - Mamba. I hasten to share impressions of the work, and you, in turn, decide whether there is to love mambo, or the guys to believe no more.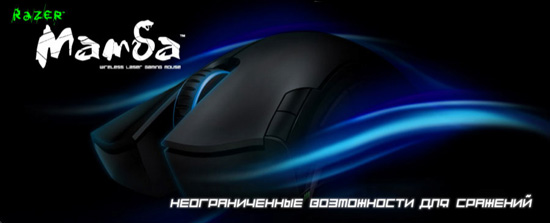 Completion

I was very surprised by feeding the device - which I have not yet met. We can not talk about it. Those who have ever bought champagne Asti Mondoro, no problems will present a package size. The upper part of the box is made of transparent Plexiglas, the lower part is hidden behind a black matte design of the paper. Mouse itself, as a museum exhibit, mounted on special plastic stand.


The installation went without any nuances, requires restart. After that, the tray appears black and green circular icon with something like a company logo. When you double click a window appears on top of which immediately climbs «Reading configuration from Synapse. Mouse cursor may become non-responsive for a few seconds. », Which can last from several seconds to a minute.

In the main window there are 5 tabs: assign buttons, adjust performance, manage profiles, manage macros and lighting and maintenance. On the first tab is a rotating 3D-model mouse with the numbered buttons. Each button can be set to the desired action you or turn it off.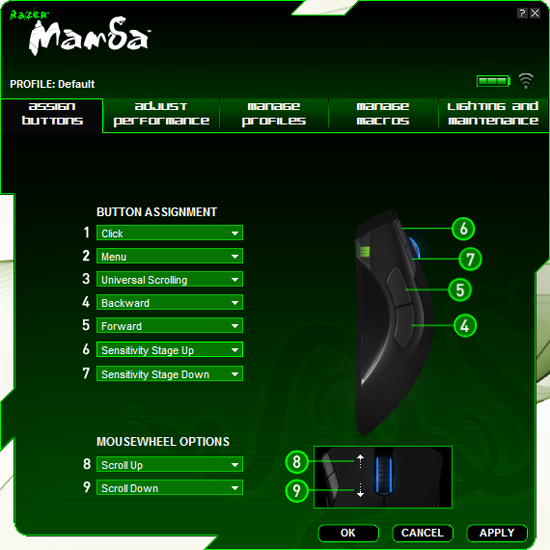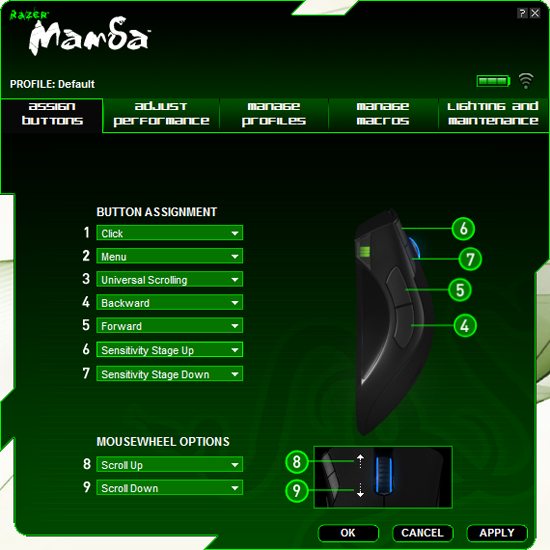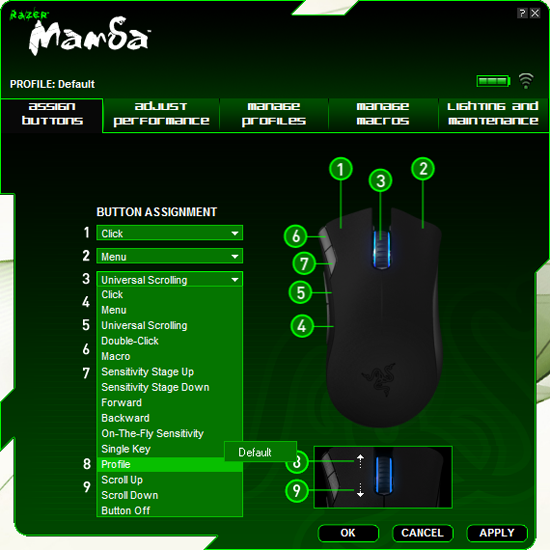 On the second tab, the setting of performance. Displaying current value of sensitivity, and underneath the scale from 100 to 5600 dpi - choose any value in the fight! For X and Y coordinates can be assigned different sensitivity.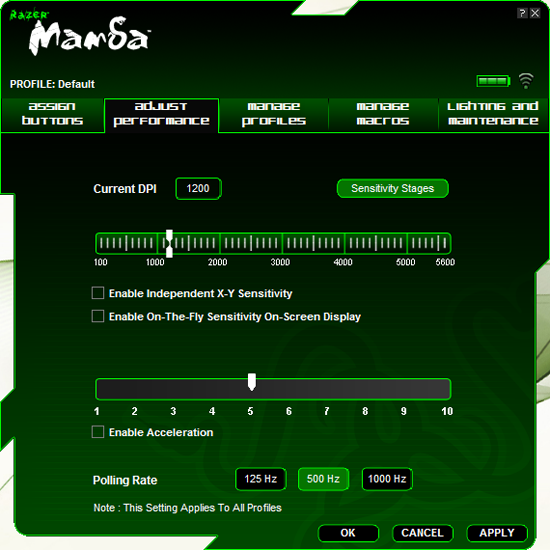 Also available 10-point scale of "acceleration" the cursor and setting the survey USB-port (125, 500 and 1000 Hertz). You can also adjust the sensitivity you need, which will switch the buttons on the mouse. There may be two to five. All clear and understandable.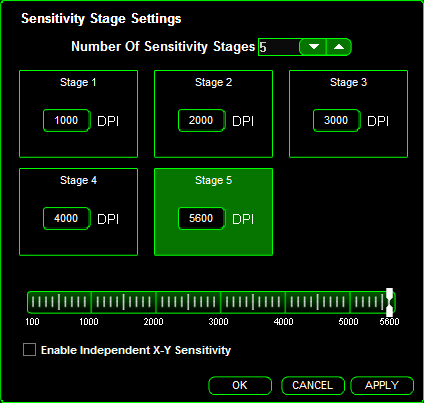 Tab control profiles can be created, as it is not strange, profiles. They can save, delete, import. There is a preview profile here in the appearing window displays of the buttons and sensitivity adjustment.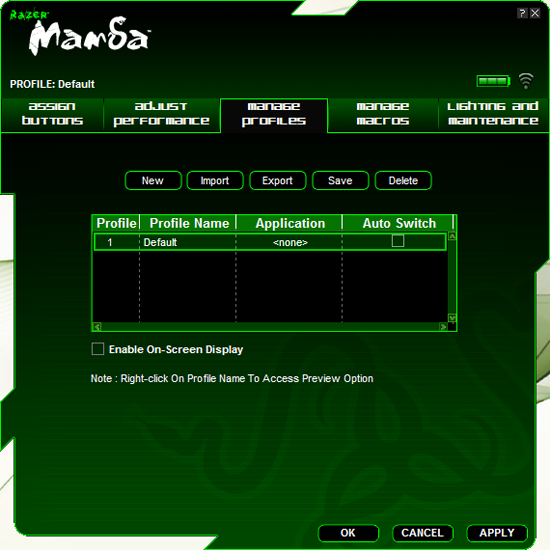 Tab, macros, of course, you can create macros. Any desired order: clicks, keyboard buttons.
On the last tab, you can turn on / off any of the highlights (charging, scrolling and power indicator), as well as check and update reset everything to factory settings.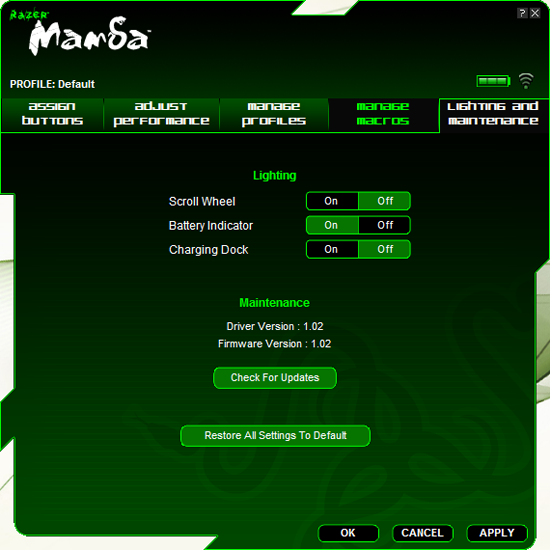 It is well settings - flexible and understandable. It is a pity that the conservation program can sometimes freeze. No, the information is not lost, simply save the settings in memory of the mouse is long enough (and sometimes this happens instantaneously).
Summary
If I saw this mouse on store shelves, it just would have taken these great sensitivity values (5600 dpi) as a marketing ploy. But it would be so only in case if it has released some not well-known company, which has never such products were not produced. Another thing, when the mouse from Razer, a company that specializes in gaming device and then only hone their technologies. In this case, Razer Mamba likely the result of evolution than marketing, though the latter can not be excluded. Engineers left the company to think about the elements of power, more precisely, the optimization of energy consumption and then it will be even greater isolation from competitors

Similar topics
---
Permissions in this forum:
You
cannot
reply to topics in this forum